Mercedes-Benz C300 Luxury Sedan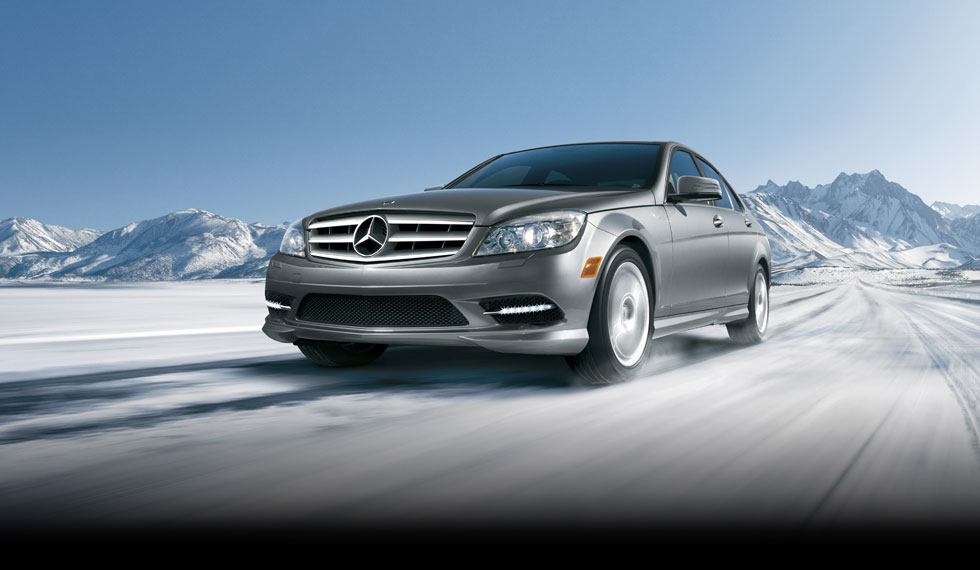 Starting at $35,900
- 228-hp 3.0L V6 engine
- 7-speed auto transmission
- 18/25 mpg (city/highway)
- RWD with 4MATIC option
- Seats 5 adults
- 12.4 cu. ft. trunk capacity

Overview
The 2011 C300 Luxury Sedan
Refined, radiant and rewarding on so many levels, the 2011 C300 Luxury Sedan continues the evolution of a landmark vehicle designed to deliver the signature Mercedes-Benz blend of safety, agility and comfort in an incomparable compact luxury sedan.
- 228-horsepower, 3.0-liter V-6 engine
- 7-speed automatic transmission
- 8-way power front seats
- Power sunroof and Bluetooth connectivity

Exterior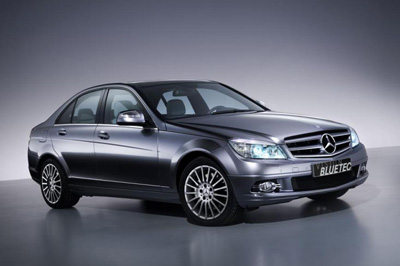 Luxury Bodystyle
Crisp, modern design with classic proportions, the C300 Luxury Sedan emanates a purebred presence. The Three-Pointed Star stands proud above the traditional slatted chrome grille, while the aerodynamically sculpted body slices through the air with a refined whisper.
Rear Seat Entertainment System
With the Mercedes-Benz Rear-Seat Entertainment System, you can bring along your favorite DVDs and your back seat becomes your own personal movie theater. Your passengers are entertained and because DVD audio plays over wireless headsets (2 included in the RSES Kit), the driver can concentrate on driving with fewer distractions. Comes with a remote to ease the use of your Rear-Seat Entertainment System. Features two 7" screens located on the back of either headrest. The DVD-slot is integrated in the monitor itself to ease the use. Additionally a SD-Memory Card is integrated in the player in addition to the availability to connect USB-Drives and other external devices to the player. MP3, DivX, MPEG 4 and JPEG files are supported to view movies or image presentation on your Rear-Seat Entertainment System. Additional feature includes the option to sync both screens in order to have only one DVD in either player. Both players can now watch the same discs or separate movies if chosen.


Interior

Elegant cabin styling
The well-appointed cabin of the C300 Luxury Sedan comes outfitted with a combination of features and finishes selected specifically to reflect its refined nature. These include a leather-wrapped, four-spoke steering wheel with integrated multifunction controls, and hand-polished Burl Walnut wood trim that adds a luxurious complement to a harmonious upholstery color scheme.
harman/kardon® LOGIC7(R) DSS system (Optional Equipment)
Specifically engineered for the C-Class, this premium digital sound system fills the cabin with 450 watts of beautifully balanced audio. No fewer than 12 strategically placed speakers including the rich bass of a subwoofer deliver a wholly immersive listening experience through LOGIC7 digital surround sound technology. Digital Dynamic Volume Control impeccably and imperceptibly maintains the sound spectrum for consistent listening pleasure in varying driving conditions. On models with the Multimedia Package, Dolby® Digital 5.1 discrete surround sound lets you enjoy audio and video DVDs in their full multichannel glory.
Central controller
Located on the console where the driver's right hand naturally falls, this large control dial puts multiple functions at your fingertips, providing easy, convenient operation of the car's audio, communication and optional navigation systems.
Panorama sunroof (Optional Equipment)
Offering both front and rear-seat passengers sweeping skyward views, this fully functional glass sunroof features a front panel that can either tilt up for ventilation or slide over the rear panel for an open-air feeling. Dual interior power shades allow occupants to adjust the amount of sunlight entering the cabin
Spacious trunk
With 12.4 cubic feet of space, the trunk of the C300 Luxury Sedan provides ample room for your groceries, golf clubs or luggage.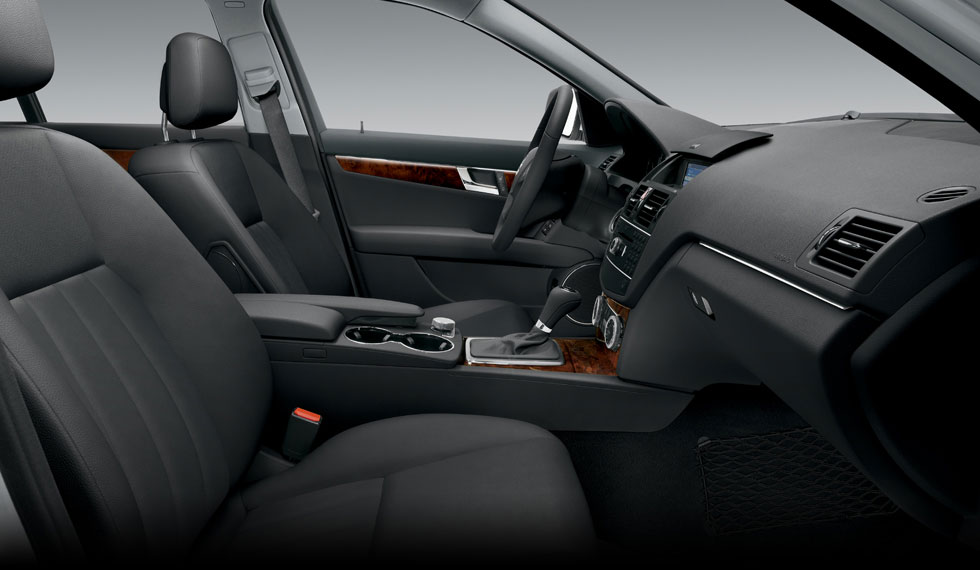 Optional Equipment
4MATIC all-wheel drive (Optional Equipment)
Whatever the season or road condition, Mercedes-Benz 4MATIC™ all-wheel drive technology can provide an extra measure of confidence and control. Fully integrated with our standard Electronic Stability Program (ESP®), which maximizes the system's effectiveness in corners and in wet or slippery conditions, 4MATIC is always engaged and optimizing torque in every wheel. And to help ensure that power translates into control, 4MATIC incorporates our 4-wheel Electronic Traction System (4-ETS), an advance that monitors for the first sign of wheel slip and adjusts power delivery accordingly. By continually ensuring that power is evenly distributed among the wheels with the best grip, 4MATIC can help keep the vehicle moving and under control even if only one wheel has traction.
KEYLESS-GO (Optional Equipment)
A leap in ease and efficiency pioneered by Mercedes-Benz, KEYLESS-GO lets you unlock, start and drive away without removing the SmartKey from your pocket or purse. You can lock and unlock the doors with a touch of the exterior handles, and start the engine by stepping on the brake pedal and pushing the Start/Stop button on the dashboard. You can also start the vehicle in the conventional way by removing the Start/Stop button and inserting the SmartKey into the ignition.

Safety
11-way air bag protection
An advanced system of 9 air bags offers 11-way occupant protection. Dual two-stage front air bags, front side-impact air bags, front pelvic air bags, a driver's knee air bag, and window curtain air bags for both seating rows are standard. Rear side-impact air bags are optional.
Electronic Stability Program (ESP®)
This safety breakthrough first introduced by Mercedes-Benz continually monitors your driving inputs and the vehicle's motion to help keep it going in your intended direction, especially in corners and during evasive maneuvers. If it detects wheelspin, severe understeer (plowing), or oversteer (fishtailing), ESP can brake individual wheels and reduce engine power to help bring the vehicle under control.
Bi-Xenon headlamps with Active Curve Illumination (Optional Equipment)
Bi-Xenon headlamps help deliver greater visibility than halogen headlamps because their brighter, whiter light is much closer to natural daylight. Heated headlamp washers help keep them at their optimal performance in bad weather. Active Curve Illumination helps you see better into corners at night, swiveling the headlamps as you steer to increase usable illumination by up to 90% over conventional fixed headlamps.
SmartKey
The SmartKey remote control integrates remote door locks and trunk opener, a removable valet key, and a remote panic alarm. You may selectively unlock only the driver's door and fuel filler, or all doors plus the trunk and fuel filler.

Performance
3.0 liter V-6 engine
Delivering 228 horsepower, the 3.0 liter 24-valve dual overhead cam (DOHC) V-6 in the C300 features variable intake and exhaust valve timing, with continually variable adjustment of all four cams for smooth idling, rich midrange torque, and high-rpm punch. An innovative intake system varies the path and flow rate of incoming air. These features make this engine incredibly flexible, allowing it to provide more than 85 percent of its 221 lb-ft of peak torque from as low as 1,500 rpm while still supplying an invigorating redline rush. Smooth response starts off the line, with the C300 whisking from 0 to 60 mph in just 7.1 seconds.
Advanced braking systems
The 4-wheel disc brakes in the C-Class feature generously sized brake components, to help deliver powerfully precise, nearly fade-free stopping control. The C300 Luxury Sedan is outfitted with 11.6-inch ventilated front discs with rigid aluminum calipers, and 11.8-inch rear discs. The brakes are further enhanced with advanced innovations, from Brake Drying that helps remove water build-up in the rain to Hill-Start Assist that helps prevent rolling back when starting on an incline.
7-speed automatic transmission
The industry's first 7-speed automatic transmission remains one of the most versatile automatics on the market. A wider range of closely spaced gear ratios delivers the ideal response for virtually every driving condition, which means smoother cruising, immediate acceleration, and thanks to two overdrive ratios, improved highway fuel efficiency, too. Its driver-adaptive programming monitors your driving style and adjusts its shift points to match.


Photos and Videos