Mercedes-Benz S400 HYBRID Sedan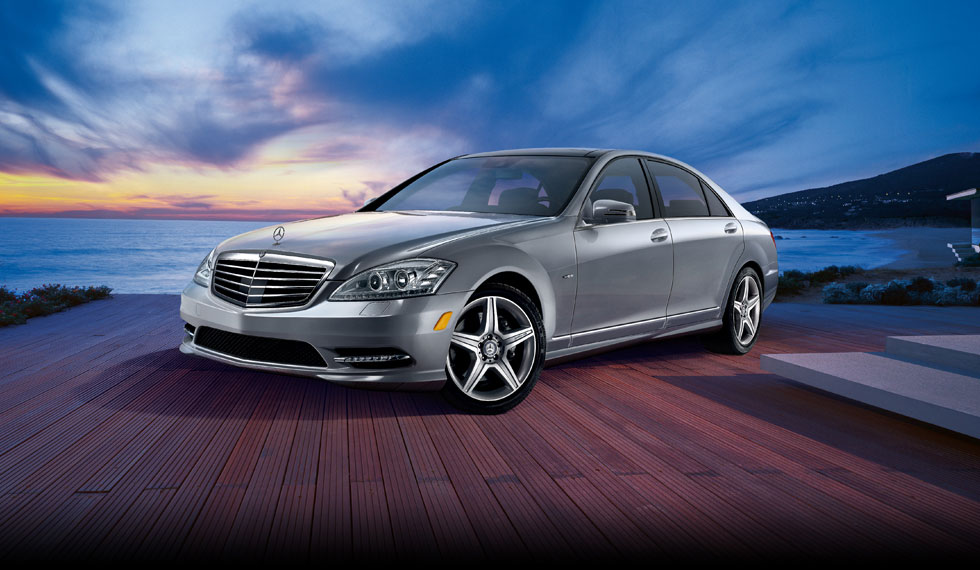 Starting at $91,000
- 295-hp mild-hybrid V6 engine
- 7-speed auto transmission
- 19/25 mpg (city/highway)
- 2WD (rear)
- Seats up to 5 adults
- 16.4 cu. ft. trunk capacity

Overview
The first series production hybrid vehicle in the world with a lithium-ion battery, the 2011 S400 HYBRID Sedan delivers extraordinary fuel efficiency without sacrificing the legendary S-Class performance and luxury. It delivers the same ample trunk capacity. The same generous interior proportions. And the same aversion to compromise.
- Eligible for a one-time tax credit of up to $1,150
- 26% more fuel efficient than the S550 (19 mpg City)
- 3.5-liter V-6 engine and electric motor for a combined 295 horsepower
- 7-speed automatic transmission with Touch Shift

Exterior
Visionary styling
A commanding presence in motion or even at a standstill, the 2011 S-Class sets the stage with a majestic front grille that sweeps elegantly from the chiseled bumper. Windswept side mirrors with integrated LED turn indicators complement the modern yet timeless profile, while chrome trim strips extending from bumper to bumper accentuate the long wheelbase. At the rear, wraparound LED taillamps highlight the broad S-Class stance, underlined by a sculpted bumper integrating trapezoidal polished-chrome exhaust tips.
Sport body styling [Sport Package]
Offered as part of both the optional Sport Package and optional Sport Package Plus One, the spirit of performance takes shape in an aggressive front air dam that tames the wind, sending it past sculpted, lower side sills and around a seductively styled rear apron.
Interior
Wood/leather steering wheel
Put a classic touch of luxury in your hands with a steering wheel accented with rich Eucalyptus wood to match the interior of the vehicle and trimmed in supple Premium leather.
Multicolor ambient lighting (Optional Equipment)
A network of efficient LEDs and fiber optics casts a gentle glow from beneath the trim on the dashboard and door panels, both to welcome occupants into the cabin and to help make nighttime driving feel more secure. For an added touch of personality, any of three illumination colors can be selected.
Eucalyptus wood trim
Hand-polished dark brown Eucalyptus wood trim, new for 2011, graces the console, dash and doors, lending the S400 HYBRID cockpit a further air of refinement and exclusivity.
Panorama sunroof (Optional Equipment)
Offering both front- and rear-seat passengers sweeping skyward views, this fully functional glass sunroof features a front panel that can either tilt up for ventilation or slide over the rear panel for an open-air feeling. Dual interior power shades allow occupants to adjust the amount of sunlight entering the cabin.
Rear Seat Package (Optional Equipment)
With this optional grouping of rear-cabin luxuries, riding in the back seat becomes a passenger preference and a distinct privilege. In addition to 8-way power-adjustable, heated and Active Ventilated rear seats, the package includes 4-zone climate control for an individual degree of custom comfort.

Optional Equipment
Rear Seat Entertainment system (Optional Equipment)
Rear-seat passengers can enjoy first-rate entertainment with two 8-inch LCD monitors integrated into the front head restraints. This dual-source system lets your passengers enjoy DVDs and video games, either together or independently. With two wireless headsets, dual remote controls and a single-disc DVD player mounted under the rear seat, passengers can watch separate movies by simultaneously using the system's player plus the standard, in-dash 6-disc CD/DVD player. Auxiliary inputs for portable gaming devices, video cameras or other peripherals can be found on each monitor, as well as on the system's DVD player. And audio can be played aloud through the vehicle's sound system or discreetly through the wireless headsets.
SPLITVIEW front-seat entertainment system (Optional Equipment)
An exclusive breakthrough in video technology allows the 8-inch high-resolution in-dash LCD screen to show two different displays to the driver and front passenger. So while the driver continues to enjoy all the functionality of the standard COMAND system, including audio, navigation and easy control of vehicle settings, the passenger can watch a DVD movie using the standard in-dash player, wireless remote and wireless headphones.
Night View Assist PLUS with Pedestrian Detection (Optional Equipment)
Reading invisible infrared beams with a special camera, this innovation can be activated at nighttime when your low-beam headlamps are on and can detect objects nearly 500 feet ahead in near-total darkness. When activated, it displays the captured image on a black-and-white screen in the instrument cluster. Advanced software helps it detect human forms up to 300 feet ahead and then highlight them on the display. Unlike other systems that identify only warm objects like animals but not cold ones such as debris or parked cars, Night View Assist detects both. And with the image on a high-resolution screen and not the windshield, you get a clearer, sharper picture of what's ahead.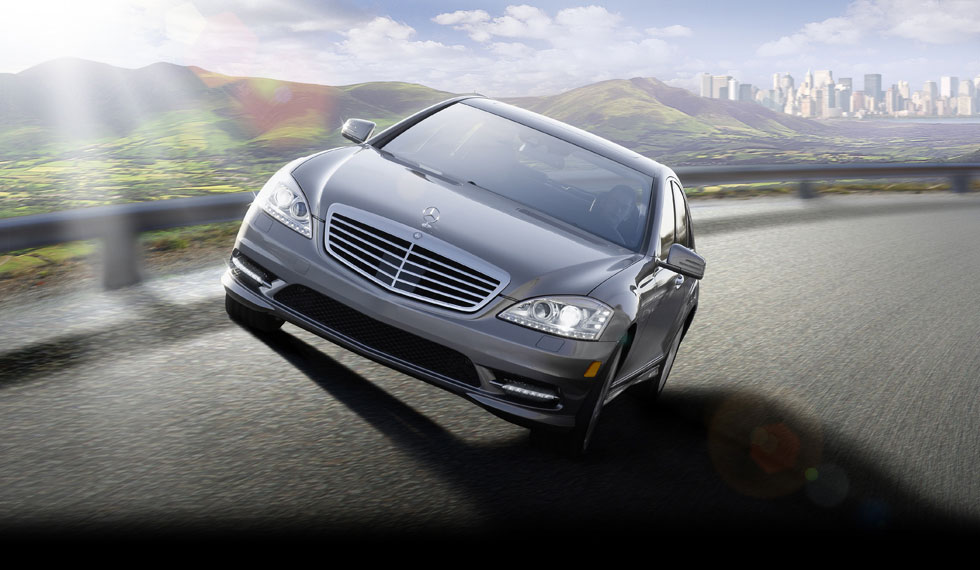 Safety
Bi-Xenon headlamps with Active Curve Illumination
Bi-Xenon headlamps help deliver greater visibility than halogen headlamps because their brighter, whiter light is much closer to natural daylight. Active Curve Illumination helps you see better into corners at night, swiveling the headlamps as you steer to increase usable illumination by up to 90% over conventional fixed headlamps.
Adaptive Highbeam Assist
Engineered to provide the maximum possible road illumination without creating glare for other drivers, this innovative feature uses continuous input from a camera to automatically vary the range of your high beams, based on the distance both to oncoming vehicles and to those ahead of you. Enhancing your ability to identify changes in the road´s path and the presence of pedestrians and hazards earlier, Adaptive Highbeam Assist can help you drive more safely and confidently in the dark.
10-way air bag protection
An advanced system of 8 air bags offers 10-way occupant protection. Dual two-stage front air bags, front and rear side-impact air bags, and window curtain air bags for both seating rows are standard.
SmartKey
The SmartKey remote control integrates remote door locks and trunk opener, a removable valet key, and a remote panic alarm. You may selectively unlock only the driver's door and fuel filler, or all doors plus the trunk and fuel filler.

Performance
3.5-liter V-6 HYBRID powertrain
Combining a V-6 gasoline engine with an electric motor, the S400 HYBRID Sedan is the first production sedan to use a lithium-ion battery for its powertrain. Boasting ultra-low emissions and high efficiency, this groundbreaking feat of engineering generates a combined 295 horsepower and 284 lb-ft of net torque--meaning there´s no lack of muscle under the hood. And thanks to an automatic engine stop-start system and advanced technology that recuperates energy during braking, outstanding fuel economy comes as second nature. In short, you get breathtaking performance, and everyone else gets to breathe a little easier.
Dual-mode 7-speed automatic with Touch Shift
The industry's first 7-speed automatic transmission remains one of the most versatile automatics on the market. A wider range of closely spaced gear ratios delivers the ideal response for virtually every driving condition, which means smoother cruising, immediate acceleration, and thanks to two overdrive ratios, improved highway fuel efficiency, too. Its driver-adaptive programming monitors your driving style and adjusts its shift points to match, while shift buttons on the back of the steering wheel let you enjoy manual-style control whenever you wish.
Paddle shifters
A pair of paddles strategically positioned behind the upper steering-wheel spokes allows you to manually upshift and downshift the 7-speed transmission with just a flick of your fingers.
Antilock Braking System (ABS)
The Antilock Braking System (ABS) senses impending wheel lockup under heavy braking and pumps the front brakes individually or the rear brakes together. This intelligent system can pump the brakes as needed up to 30 times per second, to prevent lockup and preserve the driver's steering ability.

Photos and Videos