Mercedes-Benz E350 4MATIC Wagon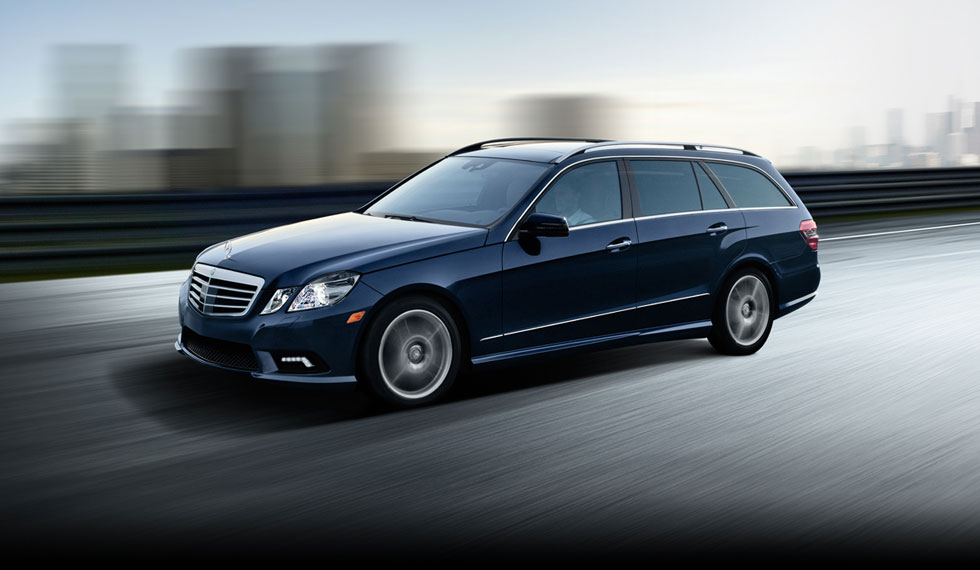 Starting at $56,200
- 268-hp 3.5L V6 engine
- 7-speed auto transmission
- 4MATIC all wheel drive
- 20.5 cu. ft. trunk capacity
- 16/23 mpg (city/highway)
- Seats 5 adults, 2 children

Overview
The 2011 E350 Wagon
The groundbreaking innovations in safety, design and luxury that make the E-Class the benchmark of luxury automobiles are available in a versatile new package. The 2011 E350 4MATIC Wagon delivers all-season performance, all-occasion accommodations and all the legendary engineering of a Mercedes-Benz in a spacious, stylish new wagon.
268-horsepower 3.5 liter V-6 engine
7-speed automatic transmission
4MATIC™ all-wheel drive
Power tailgate and rear view camera

Exterior
Bold, purposeful design
With a modern interpretation of the design cues made iconic by its legendary predecessors, the new E-Class Wagon delivers timeless style. Bold new lines stretch from the chiseled, arrow-shaped hood and signature four-lamp face to the sculpted rear quarters whose contours pay homage to the classic "Ponton" Mercedes of the 1950s. Wide LED taillamps wrap around the power liftgate in a harmony of function and flair.
Sport styling (Optional Equipment)
Distinctive wheels and front-end details, including a bold 3-bar grille, highlight the E350 Sport Wagon. The sport-tuned suspension gives it a confident stance, while interior details indicate its more performance-focused character.
Luxury styling
Elegant wheels and a crisp, chrome-plated 4-bar rendering of the classic Mercedes-Benz grille convey the refined aura of the E350 Luxury Wagon. Refined cabin appointments present countless technological advances with a style evoking the deep E-Class heritage.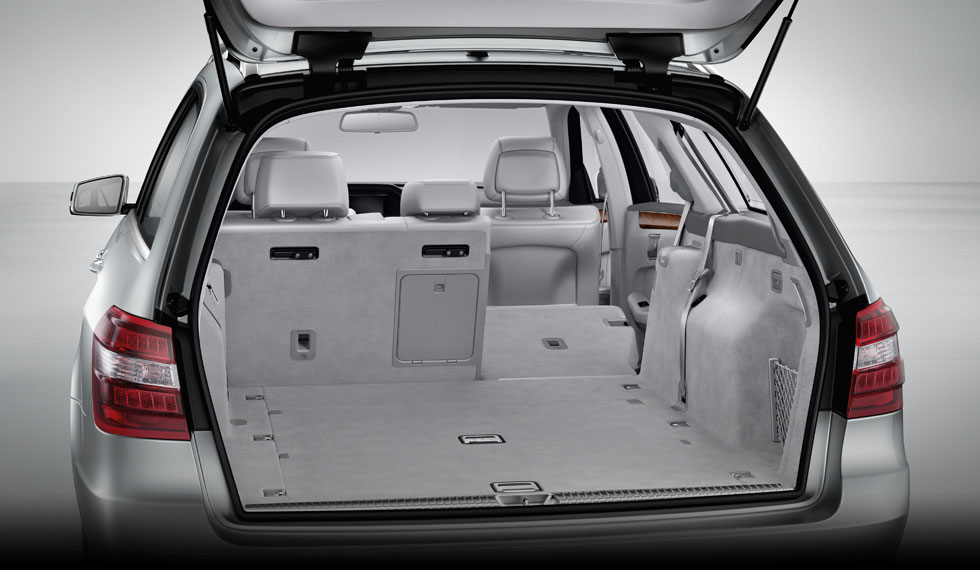 Interior

Panorama sunroof (Optional Equipment)
Offering both 1st- and 2nd-row passengers sweeping skyward views, this fully functional glass sunroof features a front panel that can either tilt up for ventilation or slide over the rear panel for an open-air feeling. Dual interior power shades allow occupants to adjust the amount of sunlight entering the cabin.
Interior ambient lighting
A network of efficient LEDs and fiber optics casts a gentle glow from beneath the trim on the dashboard and door panels, both to welcome occupants into the cabin and to help make nighttime driving feel more secure.
Rear view camera
This innovative driver-assistance feature helps you to see directly behind your vehicle when reversing. Shift into Reverse, and a wide-angle camera mounted in the rear displays a live view of what's behind the vehicle on the COMAND screen in the dashboard.
EASY-FOLD 2nd-row and rear-facing 3rd-row seats
The 60/40 split second-row seats let you increase cargo capacity in a variety of configurations, and with the utmost of convenience. The standard EASY-FOLD system lowers each seatback with a simple pull of a handle inside the liftgate or near the side door. A center-armrest pass-through adds to its versatility when carrying long items. And a folding rear-facing 3rd-row seat emerges from the cargo floor to accommodate two children, increasing total occupant capacity to seven.
Rear Seat Entertainment System (Optional Equipment)
Second-row passengers can enjoy first-rate entertainment with two LCD monitors integrated into the front head restraints. This dual-source system lets your passengers enjoy DVDs and video games, either together or independently. With two wireless headsets, dual remote controls and a single-disc DVD player mounted under the rear seat, passengers can watch separate movies by simultaneously using the system's player plus the standard, in-dash 6-disc CD/DVD player. Auxiliary inputs for portable gaming devices, video cameras or other peripherals can be found on each monitor, as well as on the system's DVD player. And audio can be played aloud through the vehicle's sound system or discreetly through the wireless headsets.
Safety
Adaptive Highbeam Assist (Optional Equipment)
Engineered to provide the maximum possible road illumination without creating glare for other drivers, this innovative feature uses continuous input from a camera to automatically vary the range of your high beams, based on the distance both to oncoming vehicles and to those ahead of you. Enhancing your ability to identify changes in the road´s path and the presence of pedestrians and hazards earlier, Adaptive Highbeam Assist can help you drive more safely and confidently in the dark.
Adaptive Bi-xenon headlamps with active curve illumination (Optional Equipment)
Bi-Xenon headlamps deliver greater visibility than halogen headlamps because their brighter, whiter light is much closer to natural daylight. Active Curve Illumination helps you see better into corners at night, swiveling the headlamps as you steer to increase usable illumination by up to 90% over conventional fixed headlamps.
9 acid-free airbags
An advanced system of 9 air bags offers 11-way occupant protection. Dual two-stage front air bags, front side-impact air bags, front pelvic air bags, a driver's knee air bag, and window curtain air bags for both seating rows are standard. Rear side-impact air bags are optional.
4MATIC all-wheel drive
Whatever the season or road condition, Mercedes-Benz 4MATIC™ all-wheel drive technology can provide an extra measure of confidence and control. Fully integrated with our standard Electronic Stability Program (ESP®), which maximizes the system's effectiveness in corners and in wet or slippery conditions, 4MATIC is always engaged and optimizing torque in every wheel. And to help ensure that power translates into control, 4MATIC incorporates our 4-wheel Electronic Traction System (4-ETS), an advance that monitors for the first sign of wheel slip and adjusts power delivery accordingly. By continually ensuring that power is evenly distributed among the wheels with the best grip, 4MATIC can help keep the vehicle moving and under control even if only one wheel has traction.

Performance
3.5 liter V-6 engine
The dual overhead cam (DOHC) V-6 in the new E350 Wagon is both efficient and exhilarating. It commands 268 horsepower and 258 lb-ft of peak torque to keep your adrenaline flowing. Continuously variable timing on both the intake and exhaust valves coupled with a dual-stage intake manifold helps the DOHC V-6 provide 100% of its peak torque from 2,400-5,000 rpm, ensuring immediate response with every throttle input.
Efficiency
In addition to fuel pumps regulated for more efficient operation, engines in every 2011 E-Class model engage their alternators and power steering pumps that only as needed, which means they sip less gasoline whenever they´re not fueling your exuberance.
7-speed automatic transmission
The industry's first 7-speed automatic transmission remains one of the most versatile automatics on the market. A wider range of closely spaced gear ratios delivers the ideal response for virtually every driving condition, which means smoother cruising, immediate acceleration, and thanks to two overdrive ratios, improved highway fuel efficiency, too. Its driver-adaptive programming monitors your driving style and adjusts its shift points to match, while shift buttons on the back of the steering wheel let you enjoy manual-style control whenever you wish.
Rear AIRMATIC suspension
To preserve the ride height, smooth driving quality and handling precision of the new E-Class Wagon, a self-leveling AIRMATIC rear suspension is fitted as standard equipment. Automatically adapting air springs work in concert with the specifically tuned mutlink geometry and rear stabilizer bar to help keep the vehicle level, and its ride and handling consistently satisfying, as passenger and cargo loads vary.

Photos and Videos