Mercedes-Benz CL550 Coupe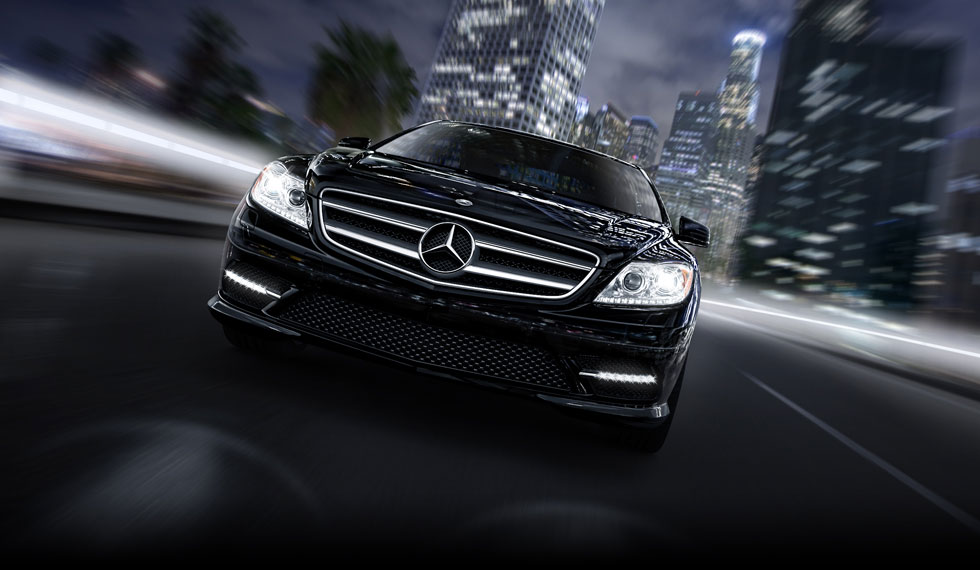 Starting at $113,150
- 429-hp 4.6L V8 engine
- 7-speed auto transmission
- 15/22 mpg (city/highway)
- 4MATIC all-wheel drive
- Seats 4 adults
- 13.5 cu. ft. trunk capacity

Overview
The 2011 CL550 4MATIC Coupe
From its resculpted pillarless profile to all of the advanced engineering captured within, the redesigned 2011 CL550 represents every passion of Mercedes-Benz. In the advanced performance of its all-new V-8, in its exclusive comfort for four, and in its attention to every detail, it's also a brilliant reflection of its discerning, passionate driver.
-The classic Mercedes-Benz coupe, freshly redesigned
-All-new 4.6-liter twin-turbo Direct Injection V-8 engine
-Standard, surefooted 4MATIC all-wheel drive

Exterior

Sport body styling
Offered as part of the optional Sport Package, the spirit of performance takes shape in an aggressive front air dam that tames the wind, sending it past sculpted side sills and around a seductively styled rear apron.
Redesigned for 2011
The redesigned 2011 CL550 4MATIC presents a timelessly modern vision of performance and poise. Sweeping, quad-projector headlamps with LED turn signals flank a wide grille whose two horizontal slats radiate from the large central Star. LED Daytime Running Lamps draw the eye to the flowing, wraparound air dam. A subtle chrome side strip underscores the coupe's seamless profile, while dramatic body sculpting and a wraparound rear window complete the design with a three-dimensional flourish.
Pillarless profile
With no visible B-pillar to interrupt the span of the four retractable side windows, the CL-Class is no ordinary two-door. Unlike a mere shortened sedan, this seamlessly panoramic design is a feat of structural integrity made possible not just by the engineering prowess of Mercedes-Benz, but by the passion behind it that believes a true coupe is equal parts performance and romance.

Interior
Noise-reducing and infrared glass
Laminated, infrared-reflecting glass helps reduce radiant heat and the penetration of both UV rays and ambient noise into the cabin.
Hard-drive navigation with Zagat Survey®
Using GPS technology and a 40GB hard drive to store maps, points of interest and even Zagat® Survey ratings for restaurants, hotels and golf courses, this virtual copilot provides detailed driving directions with remarkable speed and a friendly voice. Simply enter your destination, and the COMAND system's large color-LCD screen will display your route, as well as gas stations, ATMs and Mercedes-Benz dealerships along the way. Data for the contiguous U.S., Canada and Oahu, Hawaii come standard, with periodic updates available at your authorized Mercedes-Benz dealer.
6-disc CD/DVD changer
A single-slot system, the in-dash 6-disc changer plays audio CDs and DVDs. You can even watch a DVD movie while the vehicle is in Park.
Full-length console
A full length central console, lavishly trimmed in leather and wood, sweeps from the dash to the rear seatbacks to define the four individual seating areas of the CL-Class. Generous storage areas and beverage holders are elegantly concealed beneath wood-trimmed covers.
4-place seating
Aboard the CL550, every passenger enjoys the personal accommodation of an individually contoured seat with its own power head restraint and ample leg and foot room.
COMAND system with Enhanced Voice Control
Featuring an 8-inch color-LCD widescreen and a central controller on the console, the Cockpit Management and Data (COMAND) system gives you convenient control of audio, video, hands-free calling and navigation functions. Many features can also be accessed via the integrated steering-wheel controls. Enhanced Voice Control lets you control the phone, audio and navigation using everyday phrases, such as saying city names rather than spelling them out. It even screens out "ums" and "ahs" and understands "yeah" for "yes." Visit www.mbusa-mobile.com to learn more about Bluetooth connectivity.

Optional Equipment
SPLITVIEW front-seat entertainment system (Optional Equipment)
SPLITVIEW allows the driver and front passenger to view two different sources on the same screen. For example, while the driver is using the radio or navigation system, the front passenger can enjoy a DVD video on the very same display screen. When active, the driver has full access to the COMAND system while the front passenger uses the included remote control and wireless headphones to enjoy their own entertainment choice.
Driver Assistance Package
An advanced array of groundbreaking technologies engineered to help provide an added measure of safety and peace of mind.
Click on features for details.
DISTRONIC PLUS with PRE-SAFE® Brake
Active Lane Keeping Assist
Active Blind Spot Assist
19-inch multispoke wheels (Optional Equipment)
Elegant in design, aggressive in performance, the 19-inch wheels feature a series of intricate, wishbone-shaped spokes, and are outfitted with all-season performance tires.

Safety

11-way Airbag protection
An advanced system of 9 air bags offers 11-way occupant protection. Dual two-stage front air bags, front and rear side-impact air bags, a driver's knee air bag, and window curtain air bags for both seating rows are standard
Body structure
A range of precision safety elements work together to protect you and your passengers in the event of a collision. All of them are encased in a rigid body structure utiltizing high-strength/low-alloy (HSLA) steel in critical areas such as the roof pillars, floor and roof crossmembers, door beams and various reinforcements throughout the body. HSLA provides greater resistance to bending and flexing than conventional steel of similar weight. Elaborate engineering of the side and roof structures helps provide excellent side-impact and roof strength even without a full B-pillar.
Advanced Tire Pressure Monitoring System (TPMS)
The Tire Pressure Monitoring System (TPMS) can automatically detect a substantial loss of tire pressure in any wheel and alert the driver via a warning message in the multifunction display. The advanced TPMS can also display the numeric tire pressure for each mounted wheel.
4MATIC all-wheel drive
Whatever the season or road condition, Mercedes-Benz 4MATIC™ all-wheel drive technology can provide an extra measure of confidence and control. Fully integrated with our standard Electronic Stability Program (ESP®), which maximizes the system's effectiveness in corners and in wet or slippery conditions, 4MATIC is always engaged and optimizing torque in every wheel. And to help ensure that power translates into control, 4MATIC incorporates our 4-wheel Electronic Traction System (4-ETS), an advance that monitors for the first sign of wheel slip and adjusts power delivery accordingly. By continually ensuring that power is evenly distributed among the wheels with the best grip, 4MATIC can help keep the vehicle moving and under control even if only one wheel has traction.
Active Lane Keeping Assist (Optional Equipment)
With technology that monitors ordinary road markings, Lane Keeping Assist helps detect unintended drifting off-course,and alerts the driver by vibrating the steering wheel. If the driver continues to drift, it can apply the brake to a single rear wheel to help guide the car back into its lane.

Performance

All-new 4.6-liter twin-turbo Direct Injection V-8 engine
Powering the CL550 into the future is the first of a new generation of engines. With reduced displacement, numerous advances and twin turbochargers, the 429-hp 4.6-liter V-8 delivers 12 percent more power, and a 516 lb-ft torque peak that delivers a 45-percent improvement at just 2,000 rpm. An advanced, rapid-multispark ignition system can fire up to four times within one millisecond, brilliantly making the most of every drop of fuel. A new high-pressure Direct Injection system can microscopically fine-tune the fuel delivery in just 0.1 milliseconds, reducing emissions, fuel consumption and noise. Further reductions in these come from the engine´s lightweight diecast-alloy construction, its faster, more widely variable valve timing, as well as reduced friction and clever "only on demand" use of ancillary components such as the alternator.
Dual-mode 7-speed automatic with Touch Shift
The industry's first 7-speed automatic transmission remains one of the most versatile automatics on the market. A wider range of closely spaced gear ratios delivers the ideal response for virtually every driving condition, which means smoother cruising, immediate acceleration, and thanks to two overdrive ratios, improved highway fuel efficiency, too. Its driver-adaptive programming monitors your driving style and adjusts its shift points to match, while shift buttons on the back of the steering wheel let you enjoy manual-style control whenever you wish. Additionally, the transmission offers selectable Sport and Comfort modes, independent of the vehicle´s AIRMATIC suspension settings. And Touch Shift technology allows more active drivers to upshift and downshift using the standard, steering-wheel-mounted shift paddles.
Paddle shifters
A pair of paddles strategically positioned behind the upper steering-wheel spokes allows you to manually upshift and downshift the 7-speed transmission with just a flick of your fingers.
Antilock Braking System(ABS)
The Antilock Braking System (ABS) senses impending wheel lockup under heavy braking and pumps the front brakes individually or the rear brakes together. This intelligent system can pump the brakes as needed up to 30 times per second, to prevent lockup and preserve the driver's steering ability.


Photos and Videos